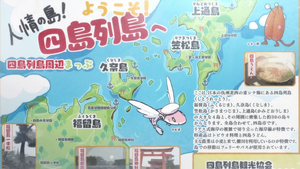 The Four Islands Archipelago are a series of formerly inhabited islands in Japan which were later revitalized following the invention of the Grav Shoes. It consists of four larger islands called Fukurujima, Kunashima, Kasamajima, and Kamidoorijima. In addition, there are around 30 smaller islands crowded in the area.
Kunashima Island
Kunashima is the island where most of the main characters live. The new areas of town where commercial institutions and citizens live are separated from the old district. Although the population is increasing, it is still mostly rural.
Kunahama Academy
On the island is Kunahama Academy, school that the main characters attend. The academy also has a Flying Circus club. which is located in an abandoned bus on the hills near the school.
Students and Faculty
Mashiro Udon
Mashiro Udon is a udon restaurant run by Mashiro Arisaka's family. Mashio's father is the head chef, while her mother is the manager. During Mashiro's route, Masaya worked part-time at the restaurant.
Fukuru Island
Fukurujima Island is one of the four islands.
Takafuji Academy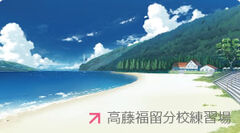 Fukurujima Island has a branch of Takafuji Academy series of educational institutions, attended by some of the supporting characters. The school also has a Flying Circus club, and often hold joint practice sessions with Kunahama.
Students
Trivia
to be added
Community content is available under
CC-BY-SA
unless otherwise noted.